TrueGrip™ for Jabra 65t/75t
Compatible with:
Jabra 65t and Jabra 75t. See compatibility tab for full listing.
Still unsure about compatibility? Use our Tip Selector!
Soft memory foam replacement earbud tips make all-day listening more comfortable, stable and gloriously vibrant.

Comply tips are 30 times softer than silicone, cost-effective, simple to install, and backed by our 100% Guaranteed Fit Program.

Unshakeable fit: Ear-conforming memory foam means all-day comfort – and no more chasing after an earbud that fell out.
Peak performance: Comply tips reduce unwanted exterior noise so you can elevate your listening at lower volumes (protect those ears!); your favorite devices will work better than ever.
Easy to use: Securely and easily attach to your device. No tools, no fuss.
Charger-friendly: Comply tips are specially designed to fit in most wireless charging cases without interfering with charging.
Extra Protection: Built-in TechDefender™ guard protects your earbuds' sound port from debris, wax and sweat.

Compatible with Jabra 65t and Jabra 75t.

Installation Instructions

Step One

Remove the eartips from your wireless earbuds

Step Two

Firmly press Comply tip onto the soundport. Ensure the tip is secure before use.

Step Three

Once installed, roll the tip between your fingers into a thin, round cylinder.

Step Four

Gently insert the entire eartip into your ear and hold it in for 10-15 seconds.

Tips are compatible with these devices:

Jabra® Elite 3
Jabra® Elite 7 Pro
Jabra® Elite 7 Active
Jabra® Elite 65t
Jabra® Elite Active 65t
Jabra® Elite Sport
Jabra® Evolve 65t
Jabra® Jabra Elite 75t
Jabra® Jabra Elite Active 75t
Customer Reviews
Customer Reviews
Write a Review
Ask a Question
Filter Reviews:
ears
tips
Jabra
materials
crud
wax filter
quality
order
Foam tips
comfort
01/25/2022
Anonymous

United States
I recommend this product
Not as advertised
A pig in a poke. The product is only mildly Able to change shape. I still have the same problem with the birds not staying in my ears. A waste of money.
01/18/2022
Kristof B.

Belgium
I recommend this product
Not what I expected
First of all, the difference in size between S-M-L is almost not noticeable to the point I doubted if there was a mistake made when the set was assembled. On one of the —what I think is the large set— the 'dirt guard' is not placed very well, it looks as if it was not placed correctly. The fit is reasonably good, but not as amazing as I expected it to be. So overall I'm not blown away by these and I'm not sure if I would order new ones, sorry.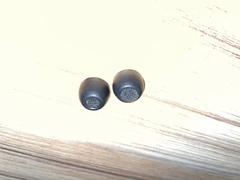 01/14/2022
Anonymous

Australia
I recommend this product
Great product, quick service
First order arrived but size too small. Replacements sent very quickly which were perfect. Highly recommended.
01/10/2022
Joseph S.

United States
I recommend this product
11/10 Experience
I can't begin to express how satisfied I am return this product. Comply now has a lifetime customer.
01/07/2022
Gladstone B.

United States
I recommend this product
Still struggling
Right ear is a difficult fit.